The Members of the Mad Scientists' Club are: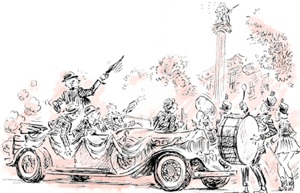 Jeff Crocker President

Henry Mulligan Vice President and Chief of Research

Dinky Poore

Freddy Muldoon

Homer Snodgrass

Mortimer Dalrymple

Charlie Finckledinck

A couple of points about the characters: Freddy Muldoon was originally called Fatso Brown, and his cousin, the notorious Harmon Muldoon, Skinny Brown, in The Strange Sea Monster of Strawberry Lake. My father changed the names in the version that was published in Boys' Life and subsequently in The Mad Scientists' Club. Charlie Finckledinck, the narrator, did not have a last name until The Big Kerplop!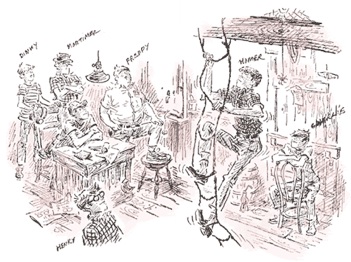 There may be some confusion as to who the characters are in illustrations that appeared in the first two volumes of the Mad Scientists' Club stories. My father may have inadvertently contributed to the confusion when he responded to fans' inquiries over the years. The key is simple: Jeff Crocker, the Club president, wears a baseball cap, as he does on the cover of
The Mad Scientists' Club
; Mortimer Dalrymple wears the hat with the upturned brims; and Homer Snodgrass has the only combed and styled haircut. To clear up any confusion, on the left is a picture from
The Cool Cavern
with the characters correctly identified in my father's handwriting. Mad Scientists' Club fans will recall that the scene illustrated in the picture is of Homer, the Club treasurer, climbing up the rope ladder to get the cash box. Jeff Crocker is sitting at the packing crate, which he uses as the president's podium.